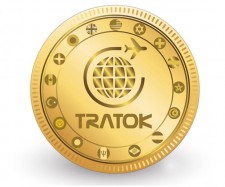 DUBAI, United Arab Emirates, March 30, 2018 (Newswire.com) - While travel has become more accessible over the years, there are still several unreasonable costs when making reservations. The $7.6 trillion dollar industry remains riddled with hidden costs and excessive fees at the expense of the consumer. Thanks to the team behind the Tratok Project, these long-standing issues will soon be a thing of the past, with travel and vacations being more affordable to all.
The Tratok Project aims to utilize disruptive blockchain technology to address these shortcomings and eliminate inefficiencies in the marketplace before the fall of 2019. By using the unique Tratok token to power a purpose-built multi-platform application that can be used for all travel and hospitality needs, the project greatly enhances user experience and stakeholder value.
"Our in-depth feasibility studies and surveys have demonstrated that the use of Tratok can save up to 30 percent for clients while at the same time increasing profitability for service providers," according to project advisor Mohammed Altajir. By utilizing disruptive technologies, the team behind Tratok have demonstrated via proof of concept, that the platform will be able to lower transaction costs, reduce the time needed for reservations, reduce the headaches attached to cancellations and refunds and protect users from foreign currency exposure.
By positioning itself in a growth sector and offering viable solutions to addressing known outstanding problems, Tratok aims to set a new standard in the market and capture a market share that reflects the benefits which the platform brings.
While the road ahead will be a challenging one, the future looks bright for Tratok. Thanks to a clear development pathway and supportive feasibility studies, the project has attracted an array of exceptional talent. Among the project's leadership and advisors are renowned sector experts and individuals who have an excellent track record in building billion dollar revenue generation operations across the globe.
2018 looks to be a very promising year for the project. With a world-class performance driven team, a viable business model, first-class industry connections and advanced discussions with key industry stakeholders, the project has the capability to change the face of the travel and tourism industry. Should the project succeed, tourism and business travel may never be the same again, with travel being more affordable and more hassle-free than ever before.
Media Contact:
Email: press@tratok.com
Source: The Tratok Project
Share: